I can hardly believe that I'm having to do this again...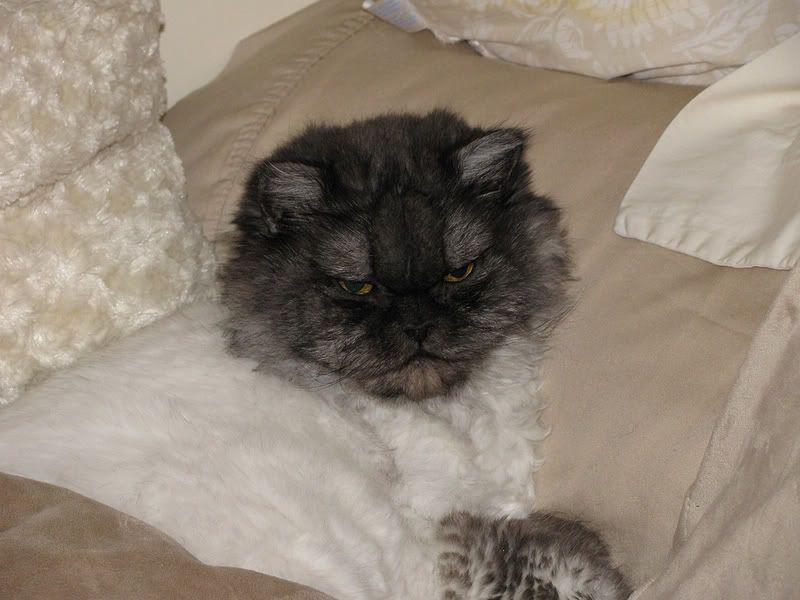 Duncan
1995 - June 20, 2009


Duncan was a one-in-a-million type of cat. He loved almost everyone, family, friends and strangers. If Duncan didn't like someone, it was definitely something to consider. He loved to cuddle, loved to kiss (big, wet, sloppy kisses), and he even gave hugs. Real hugs, where he would put his kitty paws around your neck and just snuggle. His favorite toy was a small, red stuffed cow, aka "Miss Cow", who he used to carry around the house in his mouth, meowing as loud as possible at the same time. Then he'd drop her, and usually sit on her. I'm not sure what that was all about, but it made him happy.


With the passing of Duncan, all my persians are gone. Boo, Duncan and Winter all came from the same gene pool, and I wonder if that doesn't have something to do with them all developing serious health issues around the same age. I like to think they lived almost all their lives together, and they wanted to keep that streak going in the next world, whatever that may be.

It almost seems like the new kittens came into my life at this time for a reason.
Current Mood:

sad