If anyone didn't know by now, I'm a big animal lover. A week or so ago,
mskatej posted some pictures of her darling cat, Charlie, and I told her she inspired me to post some pictures of my own fur babies. They'll be behind the cut.

I wanted to share this vid from youtube here though. I don't know how many of you have been following the devastating news about the fires in Australia.
bop_radar , who lives in Australia, has shared a lot of information with us, and provided lots of links, including ones to denote to the Red Cross and the RSPCA (for the animals). With such a tragedy, its always so important to look for something, anything, uplifting in such a terrible time. It seems that Sam the Koala might be just such a thing.


And here's a link that follows up on the story, and brings us the happy news that Sam (a female) has found herself a friend in Bob
http://www.msnbc.msn.com/id/29123220/
In happier news, Stump, a 10 year old Sussex Spaniel became the oldest winner of the Westminster Kennel Club Dog Show. In doggie years, he's a senior citizen, and a few years back, he nearly died of a bacterial infection. But Stump won the hearts of the crowd, and charmed the judges. And looking at him, is it any wonder?
If you'd like to see 2 of my fur babies, they're Type your cut contents here.

This is my Duncan. He's a 13 yr old grey persian, though he looks pretty white here. He had a haircut in December, and his fur actually grows in white at first, but when its fully grown in, he's closer to the color of his head.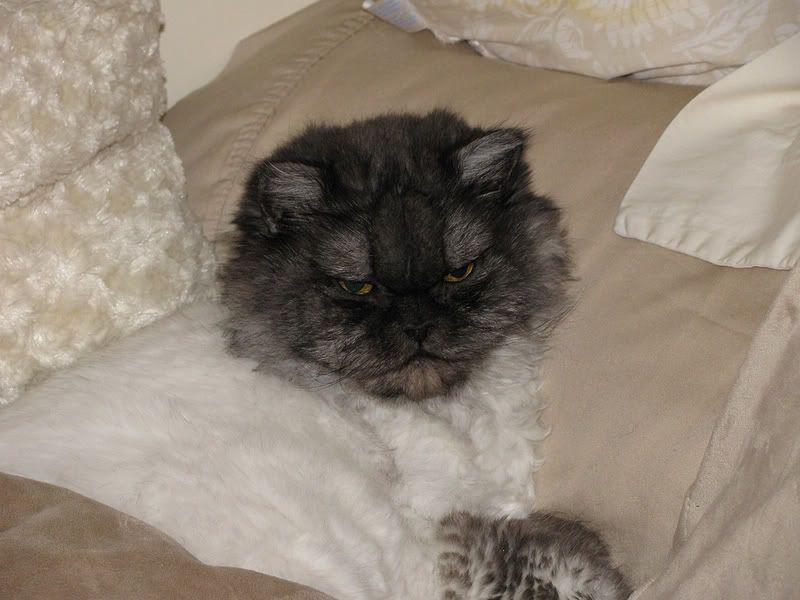 And this is why I'm never able to make my bed in the morning before I go to work. Duncan doesn't quite understand that cats shouldn't sleep with their heads on pillows, under the covers.




This is my Winter. He and Duncan are full brothers. Winter is pure white, with no other colors. He also had a haircut in December, and with the way his fur is growing in, I think he looks like mashed potatoes. This is him on his beloved lamby blanket.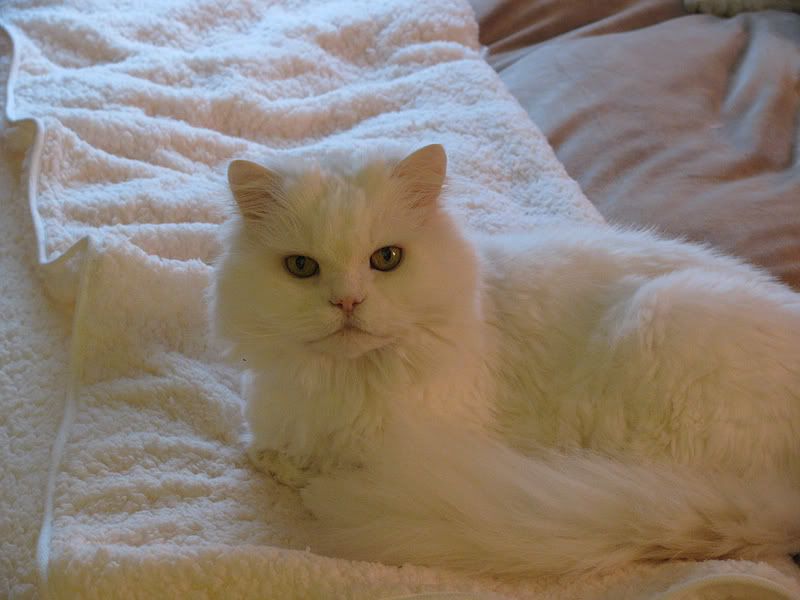 And this is an extreme close-up of Winter, showing off how pretty he is




I just recently got a new camera, so I'm hoping to take more pictures of my kitties. Actually, my other cat, Boo-Bear is a bit sickly (he has asthma), and he's a little worse for it, so I'm not sure he's up to having his picture taken. I'll ask him though. ;)

Thanks for indulging me. :)

Current Mood:

melancholy