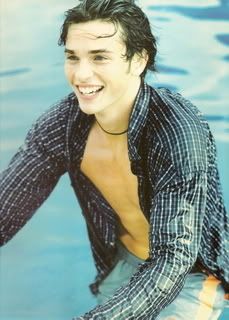 I'm starting off with this picture, just because he's Lovely!!
Type your cut contents here.


From TV Guide, as posted on DTS

Get ready for the return of the Justice League. When Smallville comes back in September, the Super Friends reunite to search for Clark Kent, who went missing in May's season finale after tussling with Lex Luthor at the Fortress of Solitude.

Smallville creators Al Gough and Miles Millar have departed (and are currently producing the Hannah Montana movie), so four of the series' longtime producers have taken over for Season 8. "Luckily [Al and Miles'] voices are still talking to us in our heads as we're breaking stories," says Kelly Souders, who is running the show with Brian Peterson, Todd Slavkin and Darren Swimmer. "Their visions come to us all the time, so I think they did a great job of preparing us for this day."

One of the first things the new quartet did was lock in Justin Hartley for at least 12 episodes as Green Arrow/Oliver Queen, a fan favorite who appeared frequently in Season 6 and once last season. He'll start this new chapter by gathering Aquaman and Black Canary to rescue Clark. Alan Ritchson and Alaina Huffman will reprise their roles, as will Phil Morris, whose Martian Manhunter also appears in the opener, titled "Odyssey."

This season's theme is "double identities," Souders says. "It's about the Superman identity emerging as Clark Kent tries to maintain a normal life — or the appearance of a normal life." To that end, he takes a job at the Daily Planet, right across the desk from Lois Lane (Erica Durance).

"The camaraderie as they work side-by-side that everyone loves from the DC Comics and all the Superman lore is going to come to fruition this year," Souders says. "The two of them are thrown together in some unfortunate situations for Clark. She becomes a little bit of an obstacle to him saving the world, when he's on a deadline." — Rich Sands



Well, I'm OK with this so far. Some of the JLA members looking for Clark seems to be a pretty spectacular way to start the season. It wouldn't have been my first choice, but on the other hand, Clark has been there for Oliver, and AC, and Dinah, so why not them being there for him? And Yay! for the return of Martian Manhunter, if only because I know how much Phil Morris loves playing the character and working on the show.

And I also like the idea of Clark starting to consider the double identity. Its definitely a step he needs to take to reach that next level.

And I understand the complaints of Clark suddenly taking the job at the DP, and him not having qualifications, and so on. But ya know what? I don't really give a shit. And ya know why? Because someone was going to bitch no matter which way it went, so whatever. I have never gotten the strong impression from this show that there was much interest in showing realistic journalism, or even realistic career growth in just about any character. So, Clark working at the DP makes me happy, and I'm anxious to see him off the farm, and working at the DP. Do you think there's any chance we might get a wardrobe change? We pretty much have to, right? Please??!! And glasses??!!

I'll wait and see how the Clois interaction goes, because they've hinted at stuff before that hasn't actually come to pass. And if this is the direction they want to go, I think its disappointing they didn't up Erica's episode count, which I personally thought they should have.

But since 'shipping stuff bores me to death, I'm just going to concentrate on the Clark stuff. And to that end, we have Clark getting a job at the DP, and working in Metropolis. Him thinking about a double identity. And best of all, him trying to save the world while on a deadline, which just makes me SQUEEEEEE!!!!!!!


On other matters, seems I've been suspended from TWoP. I guess standing up to Clark hating trolls and challenging their bullshit (in the Clark Thread no less, which has turned into the "Poor Lex, Clark has mistreated him" Thread) is verboten on TWoP. Why am I not surprised? Frankly, as it stands right now, I'm probably not going to go back there as a poster. Its too hard trying to figure out Tennison's capricious moderator whims. I also find that the atmosphere there is entirely unpleasant for anyone who doesn't think Chloe and Lex are perfect creations, and that Clark, Lana and Lois aren't worthless pieces of crap. Its always had that tilt, but lately its just aggravating and impossible. And its having an effect on how I view Chloe and Lex as characters, and I don't want to hate them. So, really, why subject myself to that? I've gotten a lot of private notes over the time I've been posting there, thanking me for sticking up for Clark and TW, and daring to challenge the party line. And I think that drove me for a long time. But now I'm not really feeling it anymore. Things could change, of course, but thats where I stand as of today.

Oh, and I just want to brag about a personal accomplisment in my life, as modest as it might seem. This is rare, since I almost never talk about myself personally. But I just had all new windows installed at my house, and the air conditioners I had didn't sit right in the new windows. So, I recruited my sister, came up with a design, and we built frames that sit inside the window sill to hold the air conditioners in place. They came out wonderfully, and work perfectly. I'm ridiculously proud of us and our ability to make a design, buy lumber, and use power tools. Ty Pennington, Watch your back, I'm coming for your job!!!


ETA: Some added spoilers from K-Site, for 8x02, Plastique

UPDATED 7/2/08: This episode will explore Clark's first day on his new job and his teaming with Lois.
- The character of paramedic Davis Bloom makes his first appearance in this episode, and he interacts primarily with Chloe.

As soon as we knew AM was coming back for S8, I had a very strong feeling that they were going to pursue a connection between Chloe/Davis rather then Lois/Davis. I just had that inkling.

And Clark's first day at work? SQUEEEEEE!! Please let him wear a suit. Please!




Current Mood:

contemplative