So, lets expand the game.
What are your favorite scene/s between Clark and the following people....Jonathan Kent, Martha Kent, Lionel Luthor and Pete Ross.
Oh, I know what you're thinking "
But Valerie, how can I possibly choose from the wealth of deep and meaningful Clark and Pete scenes?
" Well, thats no excuse ;) Just do your best.
And finally, my favorite Clex scene
I thought long and hard about this, because there are so many to choose from. But I kept coming back to one episode....Nemesis. Its my favorite episode of S6, and is in fact one of my favorite SV episodes ever. And thats probably because the bulk of the episode is Clark and Lex, trapped together, forced to rely on each other for help, and also being pretty brutally honest with each other while their affection for each other still comes through. I love that Clark goes after Lex, and I love that Lex helps an injured Clark get through the tunnels and actually comes back to save his life. And I love that Clark gets to make that amazing one-handed Lex grab without any of his super abilities.
The scene from Nemesis I picked was because this was a scene where I thought both characters really dropped any pretense. Clark isn't denying anything about the chisel, or being different. And Lex isn't denying that he's after people with special abilities. The look on Lex's face when he sees blood dripping down Clark's arm, and Clark's own shock at his own injury is just such a great moment to me. In many ways, Nemesis is what I would call a quintessential Clex episode. And its the one I kept coming back to.
Jonathan Kent was a very complex character to me. The show sort of canonized him a bit too much for my liking, though there can be no doubt that he was a huge influence in Clark's life. The scene I choose was from S4's Jinx. And the reason I choose this scene was because it was one where Jonathan showed up to tell Clark what he had to do, and Clark was able to stand up for himself and convince Jonathan that this was a decision that only Clark could make for himself. Because the reality is that Jonathan couldn't completely understand the kinds of decisions that Clark needed to make, and will make, for all of his life. I give Jonathan props for coming around, and sending Clark off with encouraging words. And I give Clark props for sticking to his guns, and standing up for himself and his decisions.
This was very, very tough, because I actually had 3 scenes that were really vying for the top. And even though I choose this one from Memoria, I don't feel quite right leaving out the last scene from Vengeance, or the scene in the barn from Solitude. But, I think I choose this scene because it didn't only highlight the warmth and love between mother and son, but I think it also hinted, ever so slightly, at the tentativeness Martha sometimes had when dealing with Clark. When she first comes up to the barn, you can tell that she isn't quite sure what to say to him. And she's about to turn around and leave Clark to his brooding, until he says the name "Lara". I think its this added layer to the Clark/Martha relationship that made me choose this scene in the end. And thats even with this episode having been ruined for me due to fandom.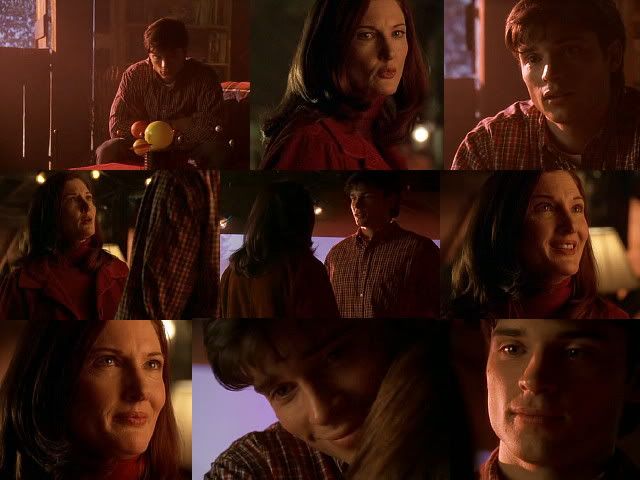 Now, this one was as easy as the Clark/Martha one was hard. I loved this scene when I first saw it back in S5, and I still love it today. Its the confrontation at the end of Mercy. At this point, the secret is on the table, and there's no more dancing around that fact. Clark has just saved Lionel is a very big way. But Clark isn't letting Lionel get the upper hand here. He's determined to keep his mother protected, and he has no problem letting Lionel know that in no uncertain terms. Even issuing a subtle threat. Tom is magnificent in this scene. As is Glover.
Poor Pete. Ya know, its really hard to find many scenes of note that include Pete. There are a few small scenes I like here and there, like Pete being Clark's campaign manager in Drone, them riding dirt bikes together in Skinwalker. But trying to find something that felt more substantial was hard. In the end, I choose the end scene from Duplicity. I've never been a big fan of how Pete initially handled finding out Clark's secret. But the end scene is something quite nice, and its a good friendship scene. I like that it finally occured to Pete how much Clark must've been holding back in their friendly games of basketball. And his urging Clark to let it all hang out was a cool move, and was probably a great moment for Clark. The music is nice, and smiles are big, and its easy to believe these two as best friends. I wish there had been more scenes like this.
Well, round 1 was fun, and thanks to everyone who participated. And its never too late to add. In fact, I've finally narrowed down my favorite Clex scene, and I'm going to add it here.
Current Mood:

morose